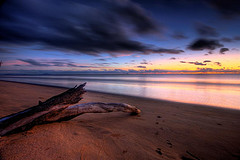 My last weekend was fantastic; I spent it in Tropical North Queensland, enjoying Bramston Beach and its surrounds. I must say, the whole process of getting away, even for a short weekend does wonders for the mind. Even though some people get stressed out about getting to the airport, waiting for the flight, and squeezing into a small seat, I find the whole process quite relaxing, especially when you know you're going away for leisure.
My Saturday morning was the highlight: still waking up early at 6.30am to the sound of breaking waves on the beach; walking up and down the beach with the sun steadily rising; admiring the distant islands. It really was idyllic and helped clear my mind from the stresses and strains of the week before. The rest of the day was no different: driving into Cairns; having brunch on the wharf; milling around the organic markets at the wharf-side centre; snoozing in the afternoon; finding a Chinese restaurant in Innisfail; losing a whole lot of poker chips.
For those of you who are need of refreshment, you could do much worse than than taking a short trip to enjoy the climate, coast, and hinterland of Tropical North Queensland.