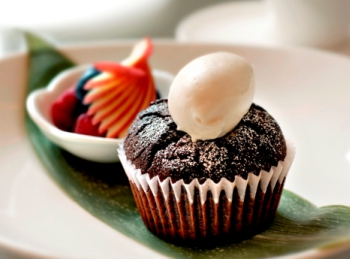 Although many people use the phrase "going out for coffee" as an expression to catch-up (or meet-up) with an old (or new) friend, couldn't "going out for dessert" be an equally valid social occasion?
A little over a month ago, I did just that with my brother and a bunch of his friends in New York. The venue was Kyotofu a Japanese dessert bar in Midtown. Containing two sections, the front of the restaurant had bar stools and a couple of tables while past the kitchen, while down the back, was a larger dining room housing more chairs and tables. On offer was a full menu of sweets that could be ordered individually as well as a prix fare menu. Being a closet sweet tooth, I couldn't help but indulge in the sampling menu that included cheesecake, black sesame sweet tofu, and the miso chocolate cake.
The cheesecake, accompanied with a sponge base, was delicate yet had a full flavour. The black sesame sweet tofu came with a roasted green tea sauce and goji berries. The slight bitterness of the berries worked well with the sweetness of the tofu whose texture was smooth but firm. The miso chocolate cake was a surprise. I've always thought of miso as being extremely salty but in this instance it was juxtaposed against lightly-flavoured green tea ice-cream.
With good service and the right sort of lighting (dim if you ask), I reckon it's a pretty good date venue.
If I wasn't concerned about my carbohydrate intake, I'd be back more often.